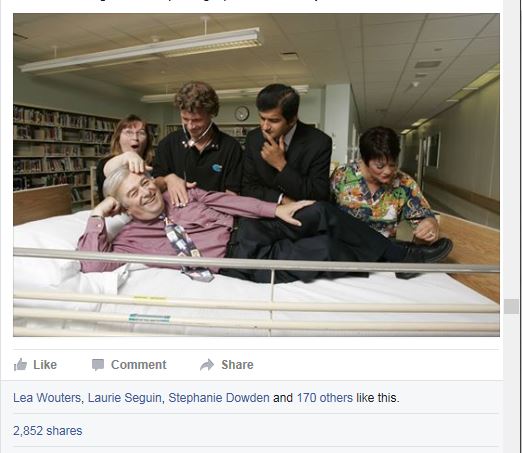 Like pretty well everyone in the media, I knew Max Keeping personally from the early 1980`s and photographed him both in the studio and on location numerous times. There was rarely a Sens Foundation event he missed and he was literally a fixture at most major charity galas in the city I either shot or attended.
This particular image was done at CHEO shortly after his diagnosis of cancer. We spent the day with kids on the ward and it was tough for both of us to see firsthand all the children of that age who were ill. I remember vividly their humour and courage in the face of illness. Once we finished the official shot, we came up with this fun shot of some of the amazing team at CHEO. Frankly…I think Max and I both needed a laugh at the end of the day…
Truth be told…it was a mix of Max Keeping`s energy and our shared desire to break the mold and laugh in the face of all this is wrong in life…and yes, even laugh in the face of cancer.
The photograph was never published and upon his death I posted it on my Facebook page. I expected a number of comments but never over 3,000 SHARES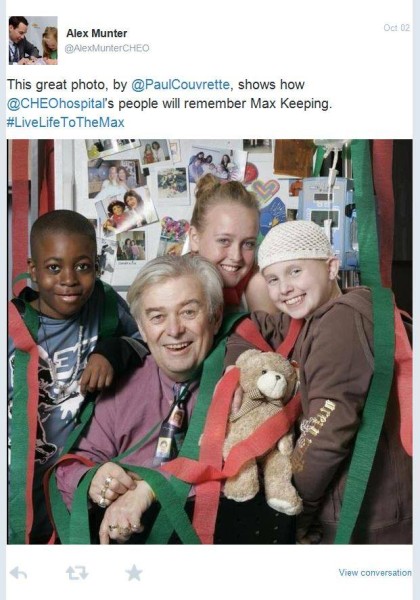 . Given that the average FB user has 300 friends, effectively this image has been seen by a million people!
In large part this is due to the fact that Max Keeping was one of the most loved men in Ottawa. He was a selfless man who raised in his lifetime over one hundred million dollars for charities, much of it to fund his favorite charity…CHEO. Max led, in many ways, a charmed life. Surely it had its ups and downs but he not only endeared himself to us as a voice to trust on the news, but shone even brighter upon retirement. There are few people in politics, the arts or the entertainment industry who could command such respect in today`s world. Thank you Ottawa for your support of an amazing guy and his remarkable work!
Max…we salute you…#LivelifetotheMax.
Please go to this link for details on his upcoming ceremony this week.
http://senators.nhl.com/club/news.htm?id=782113
Go to this link for transportation details…see you there.
http://ottawa.ctvnews.ca/city-offers-transportation-to-max-keeping-memorial-1.2602846